New 201612x Mobile phone Long Focus Telephoto/Telescope Zoom Lens/lenses For Iphone 5s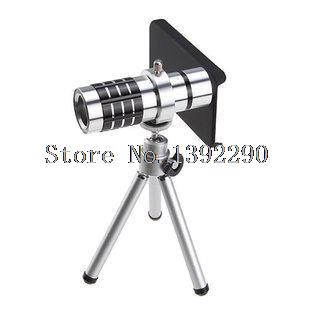 Describe:
The aluminum cased telescope Lens with micro manual focus adjustment enlarges the capacity of your for iPhone camera. shooting ability and enables you to get a close view without contortion on objects 14 times further away than the distance your for iPhone lens can pick up by itself. With a manual focus ring and a high quality telescoping tripod which allows you to shift 360 degrees around, and can be adjusted to different heights. it can help you to take high quality photos/video more convenient and easily.
No batteries and wire are required, this kit is the simplest and fastest way to turn your for iPhone into a telescopic camera in seconds.
Specification: Magnification: genuine 12X – Lens: 21mm (0.8″) – Lens sides: 35 x 35 x 97mm (1.37 x 1.37 x 3.82″) -Weight: 180g (6.3 oz) -Color:Silver